The focus of this release has been mostly on improving the experience and the capabilities for process and task administrators. These admins are keeping an eye on your infrastruction, making sure the execution of all processes in your system is in good health and resolving any issues that might show up.
To make it easier for these process and task administrators to do their work, we have added a bunch of improvements and new features for them:
Error management: Errors that happen during the execution of your processes (or tasks, jobs, etc.) are now better detected and stored. This could for example be an (unhandled) exception during the execution of your process instance or a job that has hit its retry limit.

At the core engine level, errors are stored in the database and can be acknowledged. Note that the engine will always guarantee a consist state of all your process instances, so when an exception like this happens, the engine is rolled back to last known state and the error is logged.
Through the web-based console, process admins can take a look at any exception that might have happened in detail throught the new Execution errors view, acknowledge them and if possible take action to resolve the issue.
The process instance list has been extended with a new column to show any errors possibly related to that instance.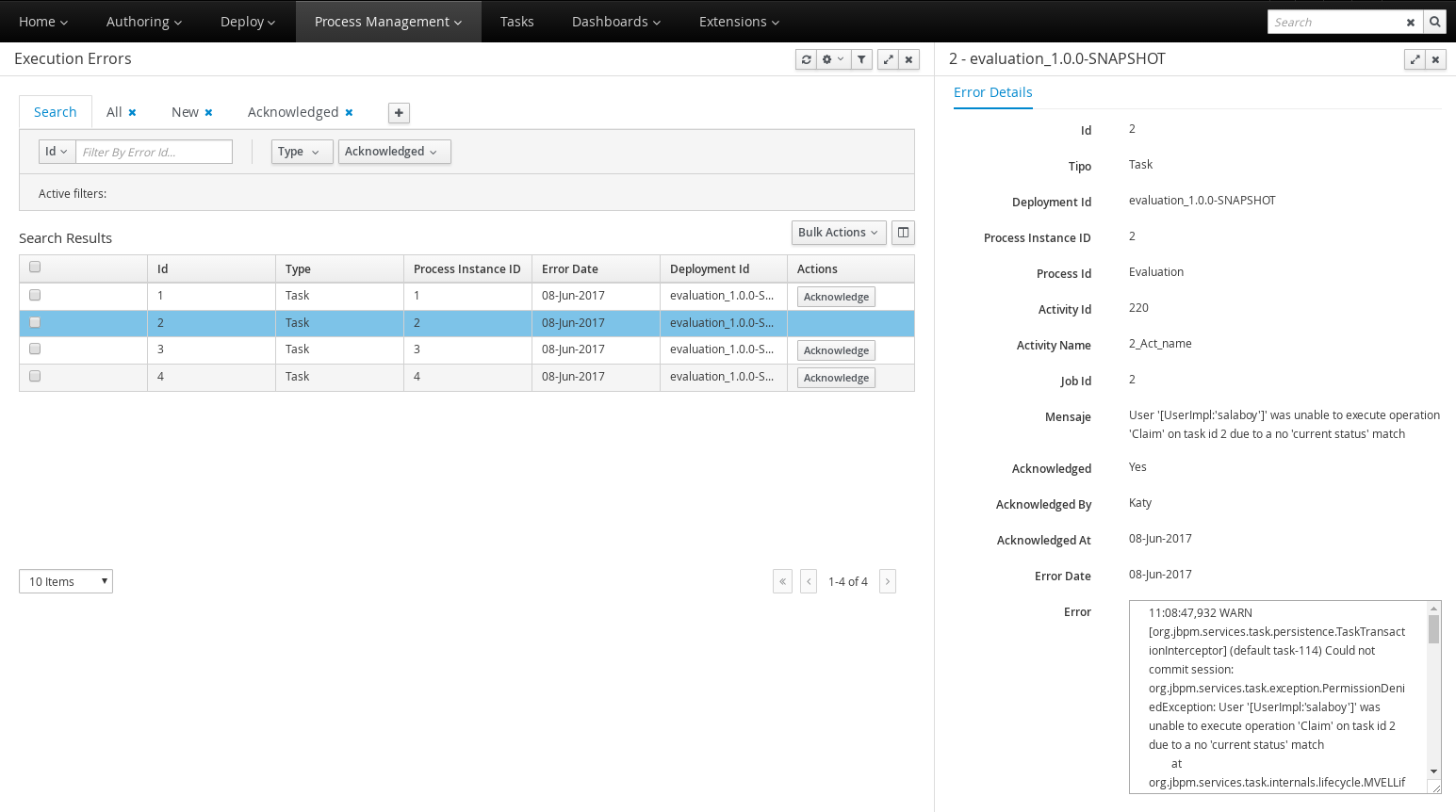 Quick filters: Searching for information about specific process instances, tasks, jobs or errors is now made easier by offering a new search tab where you can try to find the data you need by adding quick filters (for example related to the state of your process instances or the time it was started, the name of the task, etc.)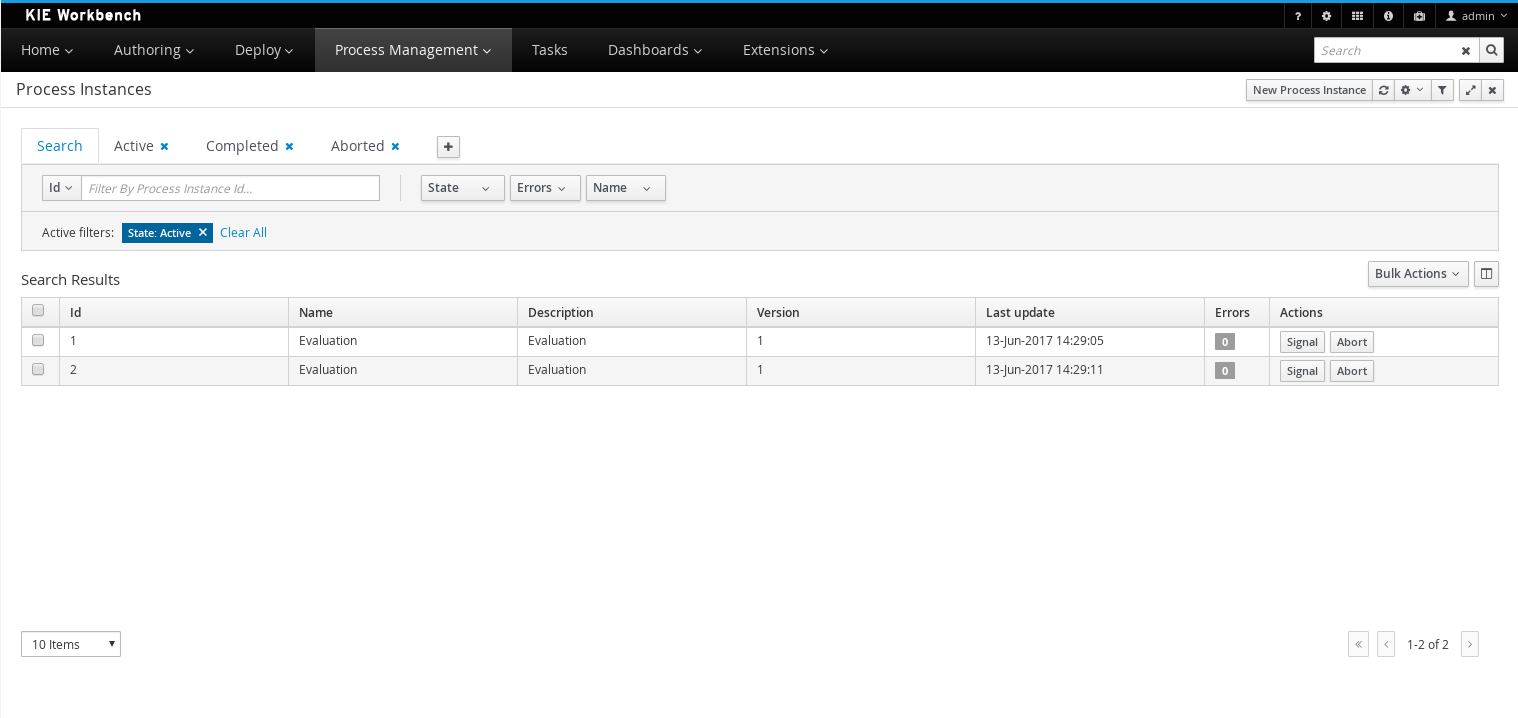 Navigation: new actions have been added to the process instance, task, jobs and errors view to more easily navigate between them where appropriate. For example, you can navigate to the errors associated with a specific process instance (if any) or to take a look at the process instance associated with a specific task or job.
Task admin view: the task view that was included in previous versions has been split into two separate views:

Tasks: Aims to be used by task operators / end users to work on tasks assigned (or potentially assigned) to them
Task administration: Designed to be used by administrators, to manage tasks belonging to other users. This perspective is only available for users with roles admin and process-admin. It is similar to the former "Admin" filter tab on the former tasks perspective.
Project and team metrics

A brand new dashboard is now available for every project listed in the authoring library. After opening the project details page, a metrics card shows up on the right side of the screen. The cards shows the history of contributions (commits) made to that specific project over time. Clicking on the View All link gives access to the full dashboard which shows several metrics all about the project's contributions.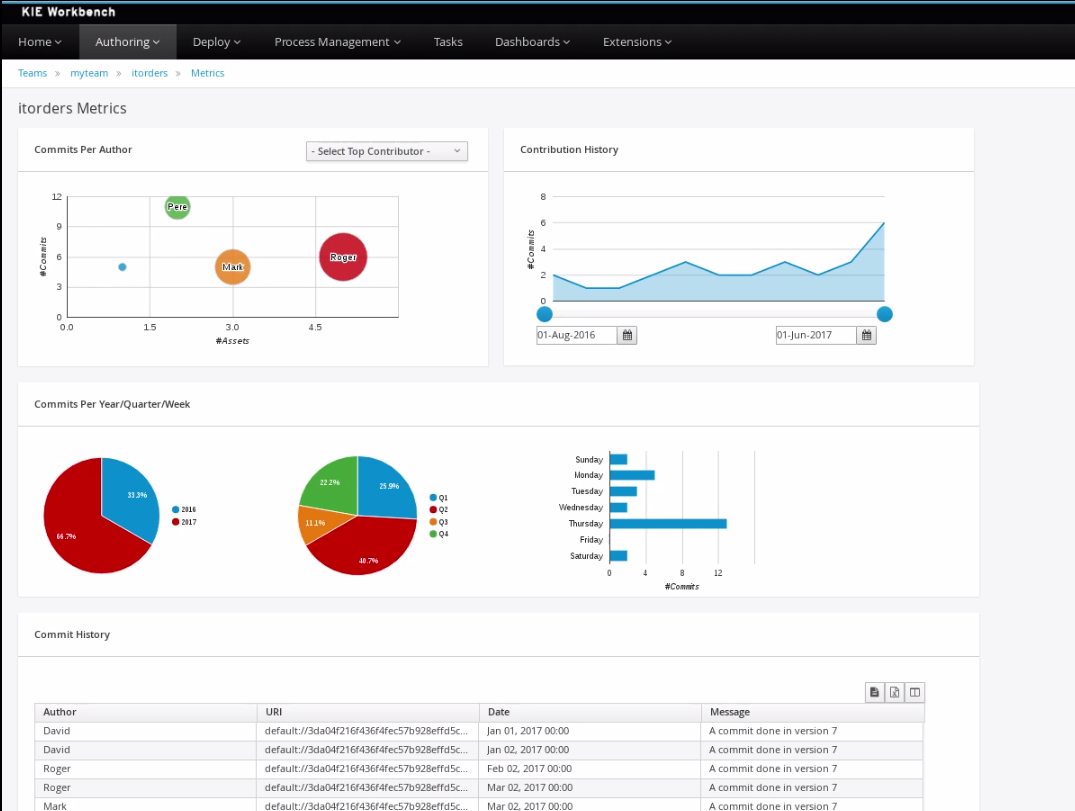 A brand new dashboard has also been added to the Teams page. A metrics card on the right side shows the history of all contributions (commits). Clicking on the View All link gives access to a full dashboard showing overall contributions metrics.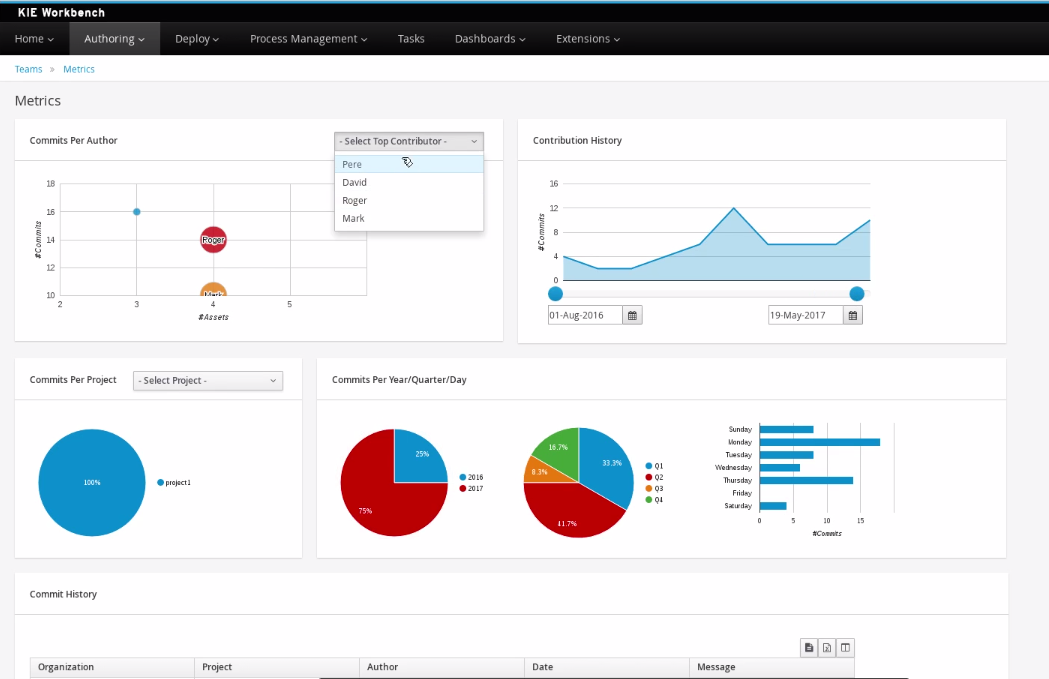 More detail can be found in the
full release notes
. Especially to our process and task administrators, enjoy !